I feel as if I'm in the Seinfeld Bizzaro World. KD is a Warrior, DWade is a Bull, and we will see the first NBA season of the millennium without Kobe, KG, or Duncan. The increased salary cap, crazy free agent signings, and trades in the summer of 2016 gave a whole new look to the NBA. It's almost as if Adam Silver created a franchise on NBA2K and selected random draft. It was the most exciting NBA offseason ever, with almost no team unchanged, and sets up what looks to be one of the most exciting NBA seasons ever. Let's go through a team by team breakdown of what the NBA will look like next year, and
perhaps make some predictions as well.
Dallas Mavericks
Starting Five: C: Andrew Bogut PF: Dirk Nowitzki SF: Harrison Barnes SG: Wesley Matthews PG: Deron Williams
Ceiling, Floor & Most Likely: 3 seed;  8 seed; 5 seed
The Mavs were the 'winner by default' of the KD signing in Golden State. If KD doesn't sign there, Barnes stays on and the Warriors have no reason to trade Bogut, and the Mavs would be left in shambles. So, as much as I hated the KD signing for the league, as a MFFL, I feel I owe KD a drink. Grabbing Barnes and Bogut, as well as resigning Dirk & Deron Williams gives the Mavs one of the best starting 5's in the West. With Rick Carlisle still being a top 5 coach in the league, the Mavs will continue to be a team that gets the most from its players. Thankfully, this year Carlisle will have more talent to work with.
The two areas that the Mavs have weaknesses are depth & durability. Bogut & Williams have a history of various injuries and missing a big chunk of games in multiple seasons, while Matthews is still not 100% where he was before his Achilles tear. Depth will be a big factor for the Mavs with 4 of the 5 starters being in their 30s this season. Young guns Dwight Powell and Justin Anderson need to keep improving, while the Mavs will still need to rely on veterans Devin Harris & JJ Barea (although I am more impressed with JJ dating two Miss Universe contestants than anything he has done on the court since 2011). Also, look for rookie AJ Hammons to get more playing time than you might think this year. The big 'if' for the Mavs could be Steph's little brother, Seth Curry. When I say he hasn't done much in the league in his first three seasons, I mean it. He has played about half a season worth of games, with almost all of that being last season. The one positive from his play last season was that he shot 45% from 3 on 111 attempts. The best help an aging Dirk can ask for is competent shooters around him that will space the floor and allow him to launch his signature fade away jumper. All in all, let's all pray really, really, really hard for a healthy Mavs starting rotation this year, because without that, it will be another 1st round exit for Dirk and Dallas.
Houston Rockets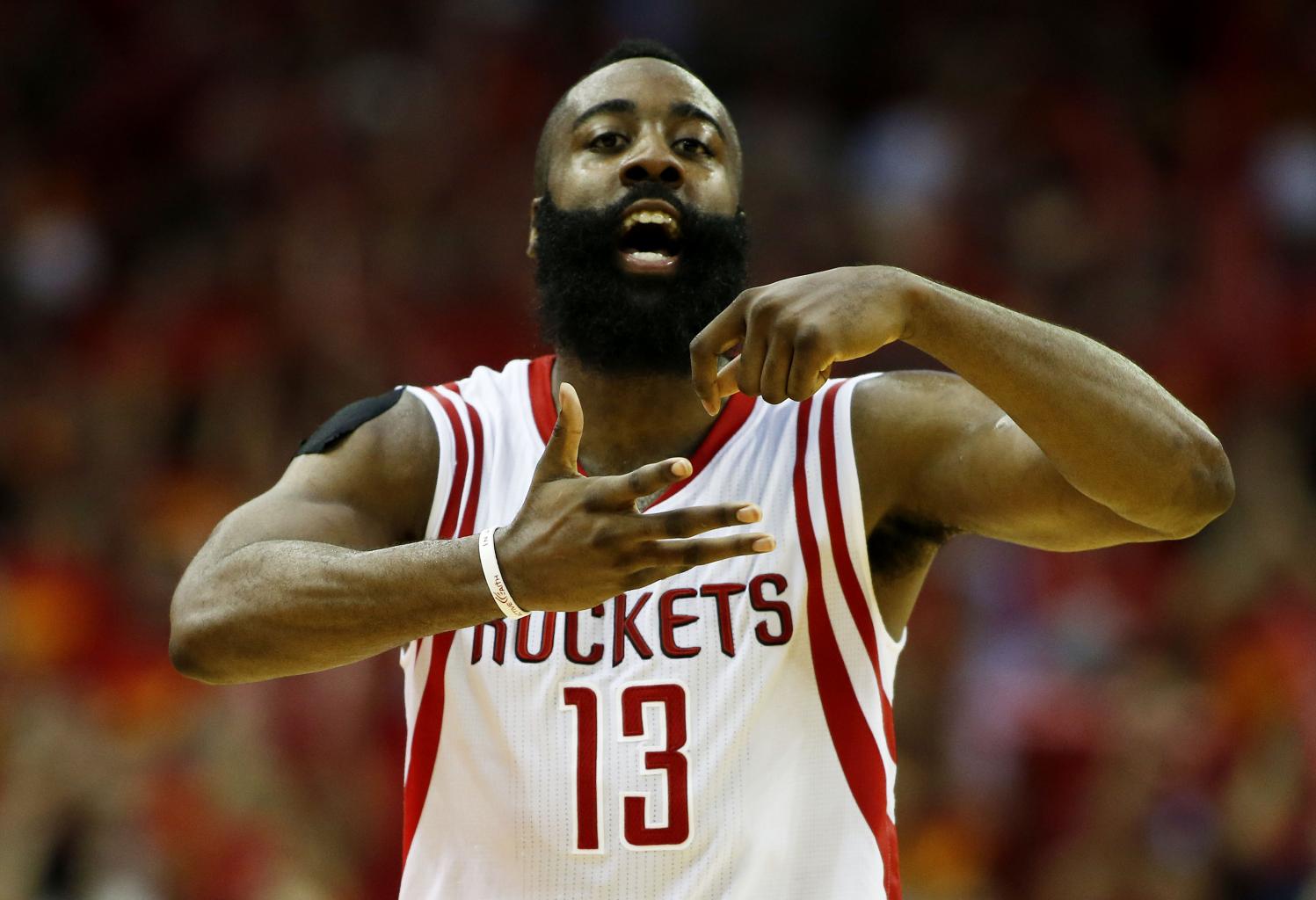 Starting Five: C: Clint Capela PF: Ryan Anderson SF: Trevor Ariza SG: Eric Gordon PG: James Harden
Ceiling, Floor & Most Likely: 5 seed;  Out;  Out
It looks as if moving James Harden from the shooting guard to the point guard was to make room for Eric Gordon in the starting lineup. This will make the Houston starting defense even more deplorable by moving Patrick Beverly to the bench. However, that is not surprising when the head coach is Mike D'Antoni, the man who created the '7 seconds or less' offense in Phoenix. It may be smart to keep Beverly in the starting lineup and keep Gordon as first man off the bench, possibly striving for 6th Man of the Year award. Gordon will give the Rockets a great scoring threat off the bench, to play alongside Terrance Jones, Nene & Corey Brewer. Not a bad bench crew, but depth is not the Rockets concern in 2017…
James Harden needs to find out what he is going to be in the league. Is he going to be a superstar that can bring his team a title or at least be in competition for one, which he has the talent to do, or is Harden more worried about 'The flick of his wrist' after every made basket? Harden may be the next Carmelo Anthony, always tearing up box scores, but also getting to admire the NBA playoffs from a tropical location as he makes his exit in late April/early May. James Harden is a great individual talent, but that does not always translate to team success. Let's see if Mike D'Antoni can revive his career in Houston. But honestly, this seems more like the Lakers stint than what D'Antoni did in Phoenix.
Memphis Grizzlies
Starting Five: C: Marc Gasol PF: Zach Randolph SF: Chandler Parsons SG: Tony Allen PG: Mike Conley
Ceiling, Floor & Most Likely: 3 seed; 8 seed; 7 seed
The self-proclaimed 'Ultimate player GM' who will get your team the big stars you've been longing for because he's 'bros' with everyone, just got recruited to another team. Apparently, Mike Conley convinced Chandler Parsons to come to Memphis, and honestly, I don't see how this helps them very much. They now own the best pump-fake in the NBA (for max money, mind you).
The Grizz also are proud owners of the highest played player in the NBA! No, they didn't steal Lebron from the Cavs. Mike Conley, the 2013 NBA All-Defense Second Team & 2014 NBA Sportsmanship winner (yes, those are his highest NBA accolades) is the HIGHEST PAID PLAYER IN THE NBA at 5 years $153 million!!! KD, Lebron, Kawhi, Russ & Steph better get to work if they want to catch this ZERO TIME ALL STAR! The contracts given out this summer are just laughable.
Probably the weakest point for the Grizz will be the coaching. They hired lifetime assistant coach, David Fizdale, to lead this team. You know what, that isn't completely fair, he did coach Team Shaq to a loss against Team Chuck in the 2013 Rising Stars Challenge. I'd be more impressed if he were under the tutelage of a great coach, but it has been Eric Musselman, Mike Woodson, and Erik Spoelstra. Good luck Memphis, you're gonna need it this year!
New Orleans Pelicans
Starting Five: C: Omer Asik PF: Anthony Davis SF: Dante Cunningham SG: Tyreke Evans/Buddy Hield PG: Jrue Holiday
Ceiling, Floor & Most Likely: 7 seed; Out; Out
Anthony Davis must have felt like he was in hell on this Pelicans team last season. The team just isn't good, period. There is some talent, but it doesn't mesh. Tyreke Evans and Jrue Holiday do not understand that the ball needs to run through Davis, and it makes the offense unwatchable. Davis has to be frustrated, but he isn't the type of player to make it known publicly. The Pelicans better do something to change the culture on this team, or The Big Easy is going to be exactly that when opposing teams come to play.
With the addition of 6th overall pick, Buddy Hield, the Pelicans need to look for some kind of trade to dump Evans to get a defensive, all about the team type of player. The Miami Heat may have a few trade option to try to replace some of Dwyane Wade's (and possibly Chris Bosh's) offense. This team will be fun to watch to see if Buddy Hield can develop into Robin to Anthony Davis' Batman. The Pels could be a team that scares people in the future, but that is several players and several years away from happening. Until then, enjoy the crawfish, oysters, and gumbo Buddy.
San Antonio Spurs
Starting Five: C: Pau Gasol PF: LaMarcus Aldridge SF: Kawhi Leonard SG: Danny Green PG: Tony Parker
Ceiling, Floor & Most Likely: 1 seed; 5 seed; 2 seed
San Antonio just lost probably the greatest power forward the NBA has ever seen. As a Mavericks & Dirk fan, that may have been the hardest thing I've ever had to admit. But the numbers don't lie. 5 rings, 3 Finals MVPs, 2 MVPs, 1 All Star MVP, 15 All Stars, 15 All NBAs, 15 All Defense NBAs. Kareem is the only other player to have 26k points, 15k rebounds and 3k blocks. Only player with 1,000 wins on one team. 2nd most playoff games played and wins (1st if you don't count role players like Derek Fisher). He has played in more playoff games than 18 franchises, and won more playoff games than 22 franchises.
Ok, enough butt kissing. Onto the gripes. I'm pissed that the Spurs got Duncan in the first place. Having an all-time great in David Robinson go down for a year, so you bottom out, win the lottery and get another all-time great? BS. And now Duncan is retiring and the Spurs are still not going to even miss the playoffs? More BS. And can someone explain to me why Duncan is considered a PF and not a C? Just because Robinson was a center, now Duncan is considered a power forward. So instead of being just another great center, he is considered the greatest power forward ever (a much weaker all-time position). The most BS. I need a shot of whisky.
Now onto this year's Spurs. After winning 67 games, there is not a lot you need to do, just retool a little bit. That's exactly what they did in getting Pau Gasol. It is a good move for them, giving them a low post scorer and a capable defender. David West stopped ring chasing with the Spurs to go chase one with the Warriors, so they picked up David Lee to backup the front court. The Spurs will do what the Spurs always do, and will be looking to win another 55-60 games with Pop at the helm.