Golden State Warriors
Starting Five: C: Zaza Pachulia PF: Draymond Green SF: Kevin Durant SG: Klay Thompson PG: Steph Curry
Ceiling, Floor & Most Likely: 1 seed; 3 seed; 1 seed
KD going to the Warriors is not the best chance for him to grow as a basketball player, it's the best chance for him to get a ring. When you see a Jared's commercial and a guy has a ring, you always see women behind him saying 'he went to Jared's'. Next year, when you see KD with a ring, you are going to hear current and former players saying 'he went to the Warriors'. While this was a good move for KD personally (a single guy moving from a small town to a big, exciting city), he can no longer be seen as one of the elite superstars in this league after going to a team that has been to the Finals two straight years. It takes a special kind of person to want to be THE guy, and apparently KD does not want that. It takes nothing away from how talented he is as a player, but for someone to even be in contention for best player in the world, they need that. After his signing, its quite apparent that rings are more important to KD than being the best player. Even though it kills me as a fan of the game, because I want to see each player want more than anything to be the best and to be the fiercest competitor alive, there are some extremely talented players that do not have that desire.
As for the team, this is going to be the most beautiful offense the world has ever seen…when they find their rhythm. Just like any team, it will take time (probably 20-40 games) for them to be who we think they will be right out of the gate. Don't be surprised if the Warriors start out 12-8 in their first 20 games. That is exactly why the Warriors over/under of 68.5 wins after the KD signing was crazy. Its not as if the Warriors are the only team that got better this offseason. Six or seven playoff contenders in the West got better as well. Also, it seems that the injury bug has avoided the Warriors in the regular season for the past two years, and it may not this year. While the Warriors did add a super-duper-star, they also lost key players from last year, in Bogut, Barnes, Barbosa, Ezeli, and Speights. That's 37 ppg and 22 rpg, not exactly something that gets replaced easily. And the last, and most obvious, reason…there is only one ball! Steph and Klay are going to have to give up a lot of shots and pass a lot more to account for KD. This team is like a fine wine, it will get better with age. So don't make any prejudgments about them before the All Star break, because you may be eating your words in May and June.
Los Angeles Clippers
Starting Five: C: DeAndre Jordan PF: Blake Griffin SF: Luc Richard Mbah a Moute SG: J.J. Reddick PG: Chris Paul
Ceiling, Floor & Most Likely: 2 seed; 5 seed; 3 seed
I can't tell if Austin Rivers needs to thank the new salary cap or his daddy for his $11 million contract, because he sure as hell isn't worth that. The Clippers are the only playoff team in the West that did not add at least a good player to their roster. Their biggest signings were Wesley Johnson and Marreese Speights, and Wesley Johnson may sneak into the starting lineup. I know they feel that the CP3 and Blake injuries in the playoffs are the only reason they lost to the Blazers, but honestly that was probably as far as they were getting if they didn't get injured. It would be very difficult to find a legitimate reason why anyone thinks they would've gone on to beat the Warriors in a series. They can keep telling themselves that they have the 1st team All NBA center, and that is only their 3rd best player, but honestly, who is DeAndre really competing against? Chris Paul has about two more years of superstar in him before he is going to struggle mightily in the playoffs, or he is going to have to find another superstar to play with to compete for a title.
Truthfully, I hate watching this team play. They are the biggest group of whiners in the league, which I'm sure they picked up from Doc. And I'm not talking only about complaining about EVERY SINGLE foul called on them, but also complaining that others have the success they wish they could've had. It's not just the whining; the offense they run is one step up from streetball. Alley oop here, isolation there, then jack up a shot when there's three seconds left on the shot clock. They rely way too much on talent, which they have a ton of, but that will not cut it in the playoffs. NBA teams are too good and too smart to
allow streetball beat them in a seven game series.
Los Angeles Lakers
Starting Five: C: Timofey Mozgov PF: Julius Randle SF: Luol Deng SG: Jordan Clarkson PG: D'Angelo Russell
Ceiling, Floor & Most Likely: Out; Out; Out
As much as I dislike the Lakers, I have to agree that the NBA is much better when they are at least relevant. They are drafting well by the look of things, but that is easy when you have the second pick two years in a row. For the Lakers to have any shot of making noise in the coming years, they are going to have to get a big name, whether that be through trade or free agency. In '96
when they got Kobe as a rookie, they also signed Shaq, the biggest free agent on the market. They may get lucky and find that Russ wants to come back home to LA in a couple of years, but they better not put all their chips in that basket. As much as everyone loves going home, I find it pretty difficult to see the ultra-competitor, Russell Westbrook, coming and joining a team that has won 65 games in the past three seasons combined.
Looking at the roster they have now, don't expect that 65 mark to jump to high. I can't imagine this team winning 30 games. The biggest upside is their coach, Luke Walton, but this is going to be night and day different than the situation he just came from in Oakland. Coming from a highly professional organization built around winners with a winning mindset and attitude and going to an organization that looks like a chicken with its head cut off. That rings even more true when you see their longest tenured veteran doing things like this: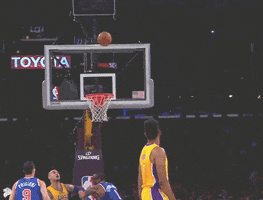 Luke, I hope you still think this is your dream job when the Lakers are 10-30 and Swaggy P and D'Angelo Russell are more concerned with who will be picking up the tab at Avalon Hollywood than the gameplan for the second half. Brandon Ingram may grow into a great player in this league, but for now he's almost a foot taller than me and the same number pops up when we get on the scale. He's going to get thrown around more than two kids in the back of a station wagon when their dad is driving around on back roads because he's 'not lost'.
Phoenix Suns
Starting Five: C: Tyson Chandler PF: Dragan Bender/Marquese Chriss SF: P.J. Tucker SG: Eric Bledsoe PG: Brandon Knight
Ceiling, Floor & Most Likely: Out; Out; Out
Dragan Bender is the brightest spot on the Suns, and that is completely by default. Phoenix seems more like the landing spot for Kentucky Wildcat mediocrity than a threat to even sniff the playoffs. Even the head coach, Earl Watson, is in over his head. From an NBA journeyman, to NBADL head coach, to assistant coach turned interim head coach in the same year, and now
is the actual head coach of the Phoenix Suns. I guess it is going to be trial by error this year in Phoenix, because Watson sure doesn't have any experience to rely on. I would have a problem with an NBA franchise offering a position that there are only 30 of in the world to someone with 2 years coaching experience (at any level), but, honestly, Pop, Riley & Phil couldn't get this group to the playoffs. So, the Suns might as well save money with what looks to be the lowest salary for a head coach in the NBA at $2.5 million. Yeah, players aren't the only ones who had salary increases, apparently the coaches are seeing a bump too.
The biggest upside of the salary cap increasing for the Suns is that now the fact that they had two overpaid point guards is erased. With the new contracts coming out this year, $12 million is how much bench players are getting. Maybe the Suns front office was just ahead of their time, or at least that's what they're telling owner Robert Sarver in hopes that they can keep their jobs. The only hope that the Suns have of making the playoffs in the next five years is that Dragan Bender becomes more Dirk and less Darko. Or maybe they are backing up their pick with the acquisition of Marquese Chriss, who plays the same position and has been highly praised by the organization as having unlimited potential.
Sacramento Kings
Starting Five: C: DeMarcus Cousins PF: Willie Cauley-Stein SF: Rudy Gay SG: Arron Affalo PG: Darren Collison
Ceiling, Floor & Most Likely: 7 seed; Out; Out
DeMarcus Cousins has been in the league long enough to be a mature leader on his team. Being a part of the US Olympic team put him around his peers who are motivated winners, something he has not been around since he has been in the league. inning is a mindset, and being on that team and winning a gold medal should give Boogie that mindset for the first time as an adult. He will also be coming back to the most stable and capable team the Kings have had since Cousins was drafted. Hopefully he can get along with coach Dave Joerger better than he has with his coaches in the past. I'm still confused why Joerger
would leave Memphis for Sacramento when Boogie has been known as a coach killer and headcase his entire career, but that's not for me to worry about.
I would have better hopes for the Kings, but they don't have any depth. Ben McLemore has been in the league for three years and has done absolutely nothing besides disappoint a fan base that thought they would at least get some highlight dunks. He played less minutes per game in his third season than either of the first two, and with Affalo getting signed to start at the 2, Ben
will struggle to see 20 mpg this season. One thing the Kings do have going for them is the nominee for best name in the NBA with Bogdan Bogdanovic. I'm still trying to figure out if he was the youngest of 13 kids and his parents just got lazy, or if they were dyslexic James Bond fans. The name's Bogdan, Bogdan…Ovic. Give this team one more year and they may be in the playoffs, but with a new coach let's pump the brakes.