Denver Nuggets
Starting Five: C: Jusuf Nurkic PF: Kenneth Faried SF: Danilo Gallinari SG: Gary Harris PG: Emmanuel Mudiay
Ceiling, Floor & Most Likely: 8 seed; Out; Out
Mudiay is a sight to see on the court with incredible athleticism, size, and passing at the point guard position. He better be working on his jumper this summer though, because 36/32/67 is not going to cut it in the NBA. If he keeps that up he is going to be the next Ricky Rubio,  a player that is thought to be good because there is always a highlight, when in reality its just another empty, worthless play.
Denver's number 1 draft pick, Jamal Murray, is everything that Mudiay isn't as a shooter. They both play the point, but Murray may work his way to more of a combo guard before the season is over. This is an VERY young team that would be hard pressed to get 30 wins if they didn't have the thin mile high air on their side.
Minnesota Timberwolves
Starting Five: C: Gorgui Dieng PF: Karl Anthony Townes SF: Andrew Wiggins SG: Zach LaVine PG: Ricky Rubio
Ceiling, Floor & Most Likely: 6 seed; Out; Out
With the drafting of Chris Dunn at number 5, this may be the last year for Ricky Rubio starting for the T'Wolves. Dunn may be the best point guard that the T'Wolves have ever drafted, including when they took three PGs in the first 18 picks of the 2009 draft, two of which were taken before Steph Curry. Dunn has handles, he can take it to the hole and finish, and if he can learn from Rubio how to read a defense and get the ball to the young rising stars on the team, the T'Wolves will be a force to be reckoned with in the West (in the future).
As for this year, I would be a little surprised to see the season end for Minnesota without a losing record. KAT has all the skills to be one of the best big men in the league and Wiggins has star potential written all over him, but losing KG as the veteren in the locker room will hurt them since he was the big brother that could teach the young guns how to deal with issues faced with the long season. If they do make the playoffs, they will be an easy out for whoever plays them, but this team is all about gaining experience right now and playoff experience would be a huge step for them. From Wiggins' spin moves, to Lavine's acrobatics, to Rubio's no-looks, Dunn's crossovers, and KAT's overall fluid game, make sure to press record on your DVR so you can watch it over and over and over.
Oklahoma City Thunder
Starting Five: C: Steven Adams PF: Ersan Ilyasova SF: Kyle Singler SG: Victor Oladipo PG: Russell Westbrook
Ceiling, Floor & Most Likely: 5 seed; Out; 6 seed
This team has so many question marks, its hard to even come up with a starting 5. Will Ilyasova start, or will they keep him on the bench and start Kanter? Will Donovan start Singler at the 3 to get some more length and shooting, or does he want Roberson out their to lockdown opponents' wing positions with Oladipo? One thing that is for sure, is that Steven Adams has turned into a great big man that does all of the dirty work. It is going to be an interesting season for the Thunder, but I think they can still make some noise in the West. Can they win the title? Probably not, but they can give some headaches to teams in the playoffs.
Westbrook catches hell from some for missing the playoffs when Durant was out for most of the year in 2015. But I feel that is unfair, because Westbrook also missed 15 games that year. They won 45 games and missed the playoffs because of a tiebreaker. But Westbrook wasn't just playing without Durant, he was also playing without $20 million worth of NBA talent. When you get rid of a superstar, you can replace that $20 million of cap space with a $10 million dollar player and two $5 million dollar layers. Russ didn't have that, he had nothing. Also, just changing the team dynamic with no practice is crazy. A team has to relearn how to play with each other without a main piece of the puzzle. That would be like trying to take a leg away from a table and making it stand right away. One could find a way, but it would take time, and perhaps some trial and error. The Thunder and Westbrook didn't have that time, they were thrown to the wolves to figure it out on the fly.
This year, Russ will be ready. He is in a contract year, and is ready to prove to the world that he didn't play on KDs team, it was their team, and maybe even Russ'. He's sick of hearing about how everyone else can do this or do that, but they don't realize that Russ can do this AND that. Yeah, he's not the best shooter (even if he doesn't realize it), but when you need a bucket he will
find a way. He's the closest thing to the Big O we may ever see, and this year his numbers will prove that. That's right, I am expecting a triple double from Westbrook. Ok, well at least close to one. He is going to be a maniac on the court. He's going to be the player that forgot to sign up for AAU and has to play in a church league. It's Russ' world this year, and he is going to be the most exciting player to watch in the NBA, hands down.
OKC made the smartest choice (and perhaps got good fortune as well) when they got Russ to sign that extension. It's great for the Thunder because they keep a superstar on their roster. It's great for Russ because he can become a free agent after his 10th year in the league when he can get 35% of the total salary cap instead of 30%. That will be about $6 million a year. Many thought that he would bolt for LA and become a Laker, but nobody in their right mind would go to that debacle of a team in the prime of their HOF caliber career. The Lakers have a big task, and several trades ahead of them to become Westbrook ready. Maybe being in LA in the offseason is enough for Russ, it's not as if NBA players have a ton of time during the season anyway. Also, Westbrook does seem to have a loyalty about him that you do not see in all NBA players.
Portland Trailblazers
Starting Five: C: Mason Plumlee PF: Al-Farouq Aminu SF: Evan Turner SG: C.J. McCollum PG: Damian Lillard
Ceiling, Floor & Most Likely: 3 seed; 8 seed; 4 seed
The Blazers in the playoffs looked like they were on the edge of taking the next step, and all they were missing was experience. The one thing I wish they would've done in the offseason is add one or two good veterans, but they did add Evan Turner and Festus Ezeli. That wasn't necessarily a bad move, because it will give them depth, but maybe they will be able to get Steve Blake back for a one year vet minimum deal to add some age to the team.
One of Portland's biggest advantages is their bench. They go two deep at every position. Festus Ezeli, Ed Davis, Maurice Harkless, Allen Crabbe, and Shabazz Napier is their second five. Not bad, not bad at all. There might even be a trade in there somewhere to get a good player on a bad team that wants to rebuild. Maybe getting Serge Ibaka from Orlando or Paul Millsap from Atlanta. Lillard is a star, and it is time for him to lead this team to a 50 win season.
Utah Jazz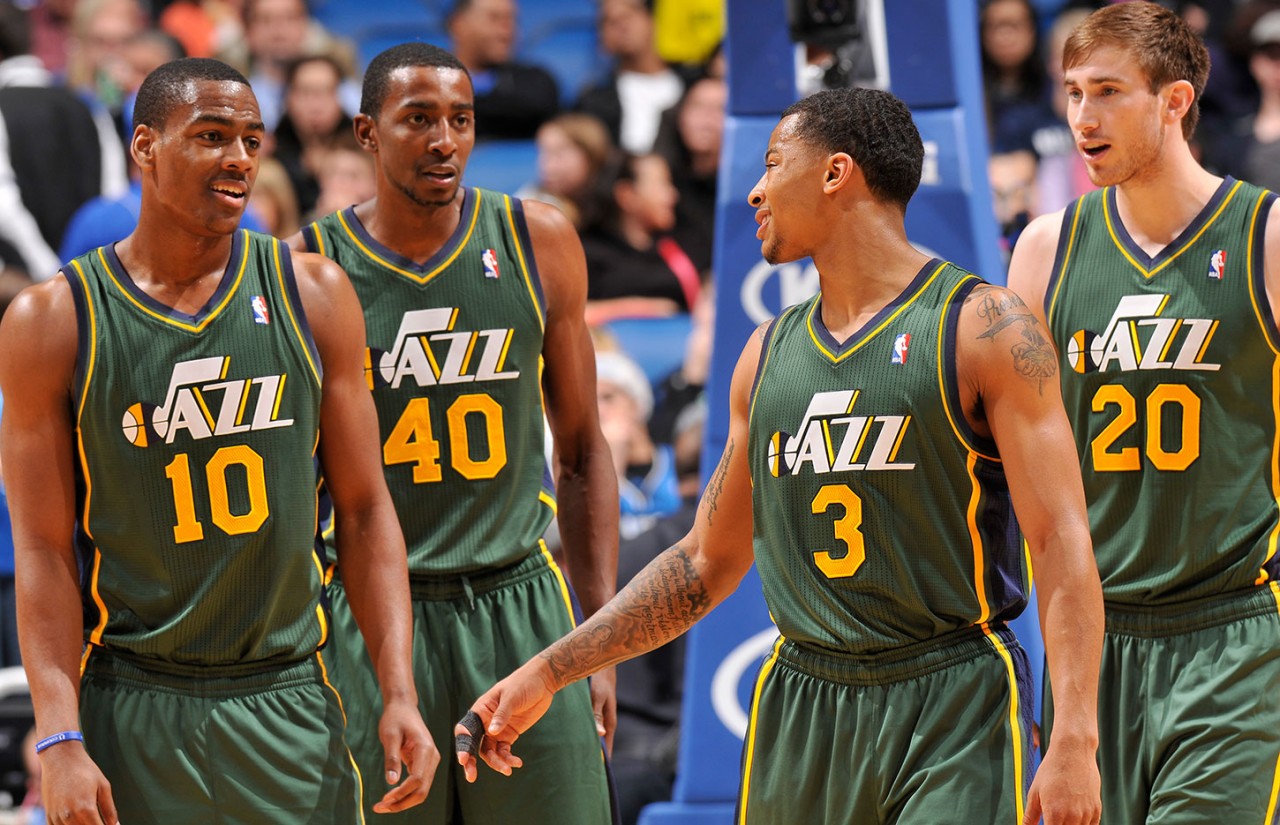 Starting Five: C: Rudy Gobert PF: Derrick Favors SF: Gordon Hayward SG: Rodney Hood PG: George Hill
Ceiling, Floor & Most Likely: 6 seed; Out; 8 seed
Utah is set at point guard: George Hill the defensive stopper and Dante Exum the freak athlete, not to mention they still have Shelvin Mack, Raul Neto, and the second round draft pick Marcus Paige. They are going to dump one or two of these in a trade
or put them down in the D league. They've also got two big 6'8″ wings in Hayward & Hood that can both score and defend. Another year in and they will be that much better.
Utah is young and inexperienced, and did exactly what young and inexperienced teams need to do in the offseason, they got veteran experience. Signing George Hill, Boris Diaw and Joe Johnson will help this team tremendously. George Hill is a solid starting point guard in the league, and while Joe Johnson is on the downside of his career, he can still score in bunches when you need him to an he's not afraid to take the shot at the end of the game. Boris Diaw has been winning with the Spurs deep into the playoffs for the past five seasons. What he will be able to bring to the youthful Jazz is priceless. These are the main
reasons Utah will sneak into the postseason in 2017.