Boston Celtics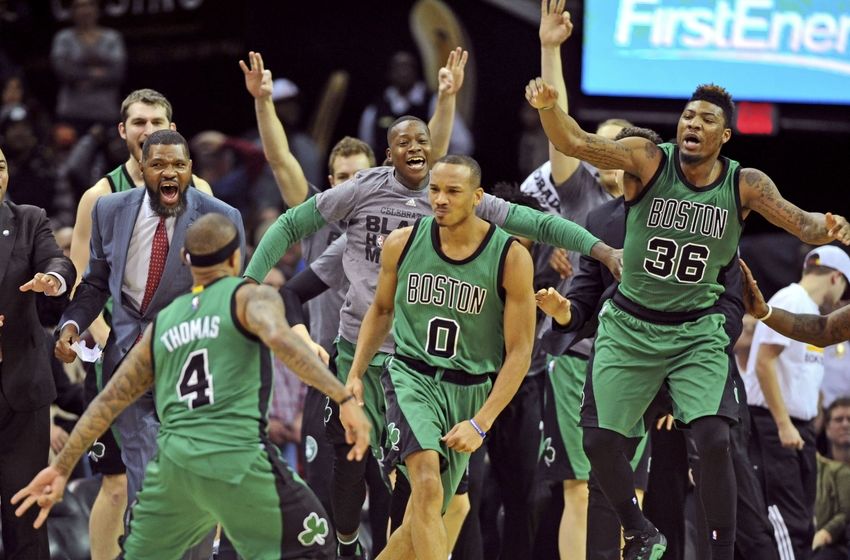 Starting Five: C: Al Horford PF: Amir Johnson SF: Jae Crowder SG: Avery Bradley PG: Isaiah Thomas
Ceiling, Floor & Most Likely: 2 seed; 7 seed; 4 seed
It's really hard to make a deep run in the playoffs without a top 20 player, and the Celtics don't have a top 20 player. They need to make a trade to become a contender. If you've heard or read Bill Simmons in the past five years, you probably understand that it is a grammatical crime to create a sentence with Danny Ainge without also including the fact that he has been collecting assets. Well newsflash Bostonians, assets don't win championships. It is time for Ainge to cash in those assets for a franchise player. Isaiah Thomas is a good player, maybe even very good, but he is a number 3 on a championship team. Maybe a number 2 if it is a very solid team, but there is no way you can hold the Larry O'Brien trophy at the end of the year with Isaiah Thomas as your franchise player.
Jimmy Butler may be the most likely option for a trade. Russ may have been in talks as well had he not signed the extension with OKC. The positive about getting Russ, is that you can't overtrade for a superduperstar. No one is going to say, 'you gave up too much for Russ', but they may say that about Butler. Boston has the Nets first round draft pick for the next two years, and those are nothing to sneeze at. 2017 and 2018 are supposed to be high talent drafts, and the judging by the outlook in Brooklyn, those should be top 10 picks, if not top 5. They probably only have to give up one of those picks to get Butler, but they will also have to give up one or two players (Thomas, Bradley, Brown). As the Celtics are assembled right now they are probably a second round exit, but Butler could make them contenders for the Finals. The upside for Butler, is that he could be plugged into a system more easily than someone like Russ. Boston needs to take advantage of the weaker East before things change (which may be sooner than later) and cash in these 'assets' for a chance at a championship.
Brooklyn Nets
Starting Five: C: Brook Lopez PF: Trevor Booker SF: Bojan Bogdanovic SG: Rondae Hollis-Jefferson PG: Jeremy Lin
Ceiling, Floor & Most Likely: Out; Out; Out
When you look at the Brooklyn Nets roster, only one word comes to mind…Who?.  It sounds more like a casting call for 'The
Bachelorette' than an NBA roster. Let's play a game; I'm going to list 5 players on the Nets and 5 guys from this season of 'The Bachelorette'. Let's see how many you can get right.
1. Alex Woytkiw 2. Caris LaVert 3. Grant Kemp 4. Justin Hamilton 5. Joe Harris 6. Jordan Rodgers 7. Evan Bass 8. Greivis Vasquez 9. Chad Johnson 10. Trevor Booker.
If you got a 10 out of 10 it means one of two things. Either you watch 'The Bachelorette' or YOU WATCH 'The Bachelorette'. Even the biggest of Nets fans wouldn't know all of those players, and the last one, Trevor Booker, is a starter! For the record: 2,4,5,8,10 are Brooklyn Nets.
I can't believe this team won 21 games last year, and I don't see them winning that many in 2017. The biggest issue for the Nets is that they don't even have any hope for the future. A string of ill advised trades made sure they won't have any good draft picks until at least 2019. At least players that sign with the Nets have a nice place to live, because all the losing is sure to get them down. The only thing the Nets can hope for is a stint of Linsanity or maybe the NBA will adopt a golf like scoring system where lowest score wins. Move over Philadelphia, Brooklyn is coming in to plant their flag as the worst team in the league.
New York Knicks
Starting Five: C: Joakim Noah PF: Kristaps Porzingis SF: Carmelo Anthony SG: Courtney Lee PG: Derrick Rose
Ceiling, Floor & Most Likely: 3 seed; Out; 6 seed
The Knicks would be contenders for the Finals in the East, but I can't imagine a season with this roster without a significant injury or two. Seeing Noah and Rose on a team other than the Bulls will be strange, but this may be just the change of scenery both of them needed. Derrick Rose was not happy when he came back after missing the majority of 3 seasons because of
injury to find out he had to battle with Jimmy Butler for control of 'his' team. Now, of course, Carmelo is in New York, but Rose would rather player on Melo's team than give up his team to Butler. For Joakim, there was not a player that hated the coaching change of Thibs for Hoiberg more than him. He saw his defensive minded team of which he was the glue, turn into a team that tried to live and die by the three ball when there were only two good long distance shooters, at best. While Jeff Hornacek was a shooter as a player and still loves the long ball, Noah is going to love his business first approach.
Melo will be in heaven with the best team, and most talent, he has ever played with. Every other time he has had a big name teammate, it was either way past their prime or they were injured for the majority of the time played with Melo. Probably his best teammate has been JR Smith, and not to take anything away from JR, but it is hard to be successful when that is your
right hand man. Kristaps Porzingis is the future of the Knickerbockers, but not quite yet. He had a great rookie season, but he needs to make sure to learn from all of the veterans around him. Hopefully, he can see that he will still be a number three option, which will allow him to work on his defense and passing game. This will help him tremendously in his career if he can take advantage of not being needed as a scorer. Most young scorers don't get this opportunity, and are forced to ignore other aspects of their game to focus solely on scoring because of their team's great need.
The key to the Knicks success will be resting during the regular season. Just like 2016, the 3-6 seeds in the East will most likely be interchangeable, so the Knicks need to worry less about getting a high seed and more about making it to May with a healthy roster.
Philadelphia 76ers
Starting Five: C: Nerlens Noel PF: Jahlil Okafor SF: Robert Convington SG: Gerald Henderson PG:Jerryd Bayless
Ceiling, Floor & Most Likely: Out; Out; Out
It's four years, and counting, that the 76ers will not be playing their first round draft pick for at least part of the season. First Nerlens Noel, then Joel Embiid, then Jahlil Okafor, and now Ben Simmons. The bad luck is incredible. It looks like Ben Simmons is going to play it safe, and wil most likely miss the entire season. Now that Simmons is out, still look for Noel to be dealt. Why trade a big guy when they just lost a big guy to injury? Well, Simmons was also a ball handler, and if you don't have anyone to bring the ball down the court, it makes the game a lot tougher. Also, Noel is in the last year of his rookie deal, and the 76ers will probably not want to sign him to a big deal when most of their depth is in the front court.
Joel Embiid is getting talk to be in the running for rookie of the year. Somewhat strange to win this two full seasons after being drafted, but 2016-2017 will be the first time he can actually suit up for an NBA game. The more playing time Embiid gets, the better shot he will have, so Noel leaving or staying will definitely sway votes. Noel has already proven to be a solid center in this league, but Embiid has a bigger upside, the question is whether or not he can stay on the court. The 76ers have shown over the past five years that they are risk takers, so this is another reason you can look for Noel tobe gone by the trade deadline.
The 76ers also have somewhat of a decision to make at point guard, with solid backup, Jerryd Bayless, and Sergio Rodriguez,
who hasn't played in the NBA since 2010. While Sergio may be the better PG, it may take him some time to adjust to the NBA game from playing in Europe for five years. Look for Bayless to start while that happens. With such a young team, having experience at point will payoff this year. Philly has a good shot at doubling, maybe even tripling, their wins from last year, while also becoming more of an NBA team and less of a circus sideshow. When you win 10 games, that isn't such a huge feat, but it will be great for the 76ers for remember what winning feels like at least 25% of the time.
Toronto Raptors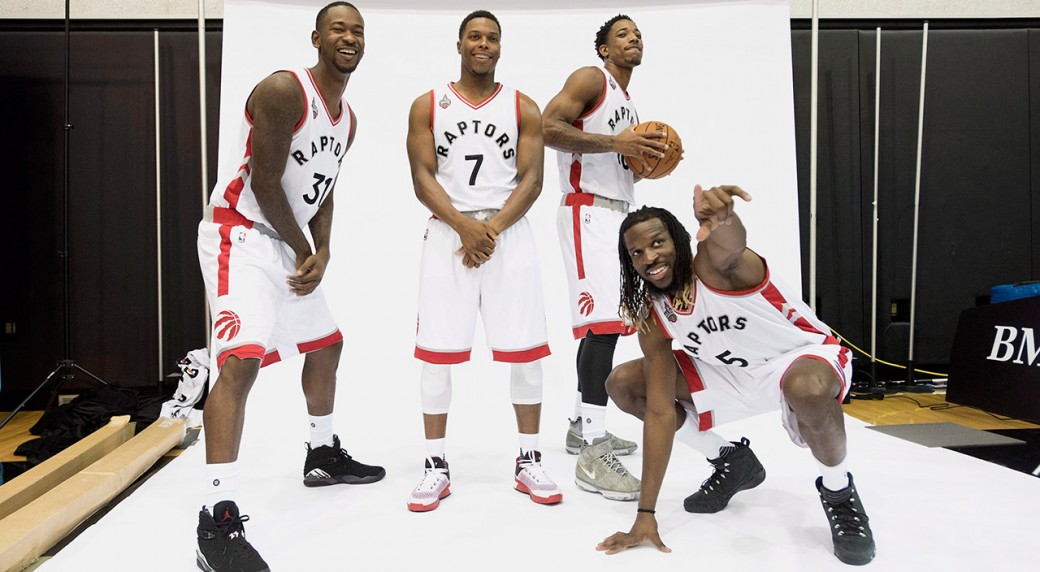 Starting Five: C: Jonas Valanciunas PF: Patrick Patterson SF: DeMarre Carroll SG: DeMar DeRozanPG: Kyle Lowry
Ceiling, Floor & Most Likely: 1 seed; 5 seed; 2 seed
Jonas definitely showed his worth to the Raptors last year, when he went down in the second round. Toronto barely squeaked by a Heat team that decided it would be better to play without any big men, than start Amare Stoudemire again. Jonas will have to keep up the dominance from the playoffs, when he was the best player on the team and carried the Raptors when Lowry & DeRozan couldn't make a shot, for the Raptors to make another deep playoff run. He will also have to up his minutes played to over 30 mpg since Bismack Biyombo went to Orlando, and the Raptors replaced him with rookie Jakob Poltl and the less-than-impressive Jared Sullinger.
Since the Raptors have lost more than they gained in the offseason, they will need to develop that young talent during the regular season, to make sure there is a reliable bench for the postseason. The East seems to be coming back to at least competitive with the West, so 2017 will be much tougher on Toronto than when they made their first conference finals in franchise history. DeRozan not being in a contract year and the East improvements will also contribute to the Toronto decrease in Wins, but they can still claim the number two seed in the East.