From the moment he was drafted, fans, analysts, players and coaches, have tried to figure out exactly how to classify Dak Prescott as a NFL quarterback. Some call him clutch, others say he is a game manager, there are those that see another scrambling runner, some even say he is fortunate being the benefit of circumstance, and of course there are a few who merely see another rookie quarterback. Is it possible that all of these are true, while also all being false at the same time? Maybe Dak is something yet to be seen in the National Football League.
Clutch QB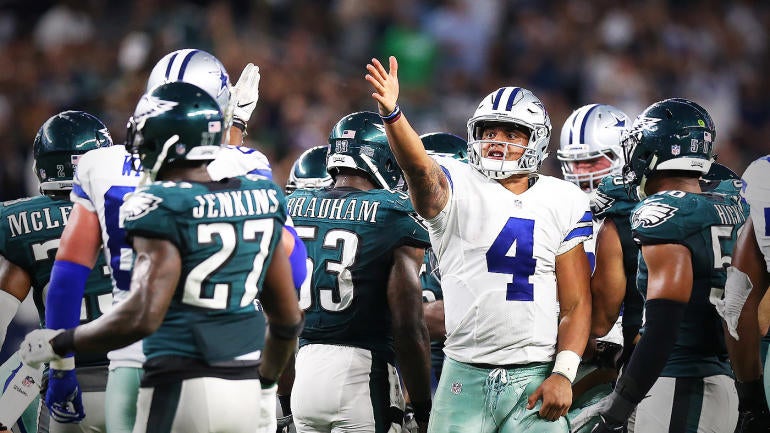 This may be the easiest category to put Dak in, considering he has three game-winning drives in the last 5 minutes through his first 14 starts in the NFL. Moreover, the two games in which he did not successfully complete that game-winning drive can easily be blamed on bonehead plays by his wide receivers. In week 1, Terrance Williams does not get out of bounds to allow Dan Bailey to attempt, an albeit long, game-winning field goal. In week 14, Dez fumbles with 2:25 left on the clock on what would have been a potential game-winning or game-tying drive. Not to mention, Dak also came back from trailing Minnesota and Tampa Bay in the 4th quarter, and being down 14-0 in San Francisco.
Naysayers of Dak's clutchness will argue that to be able to have a game winning drive, he must first dig himself into a hole. Prescott has trailed in the 4th quarter in half of his first 14 games. This does seem worrying, until finding out that finding out that the top 6 quarterbacks in NFL history in 4th quarter comebacks are Peyton Manning, Tom Brady, Dan Marino, John Elway, Joe Montana, and Brett Favre. Not too shabby of a list.
Running QB
Moving from the easiest to the hardest category, the evidence of Dak's running ability is both apparent and sparing. Anyone that has watched this kid play can see that he can be extremely elusive in the pocket and more than able to scramble for the first down when needed. Dak is also tied with Tyrod Taylor for most rushing touchdowns among quarterbacks, with six.
Sounds like a rushing quarterback so far. But, looking deeper, Dak rushes for less than 20 yards per game, and at 4.6 yards per carry, he is not even in the top ten YPC for quarterbacks. Dak's longest run of the season so far is 18 yards; fourteen quarterbacks have longer runs in 2016. So, is Dak a running quarterback who misses opportunities from not having his eyes down field outside of the pocket, or is he an athletic quarterback that has the ability to run when all options have been exhausted? The latter seems to be the fairer description.
Game Managing QB

One of the biggest stigmas a quarterback can carry these days is being labeled a 'Game Manager'. Just ask 2012 Alex Smith. Being a game managing quarterback means relying on team strengths to win games, whatever that may be. If a team has the best offensive line and league-leading rusher, a HOF route-running tight end, and a high caliber slot receiver that runs underneath routes; would it not be extremely selfish to rely completely on the quarterback's talents to win games?
One of the best comparisons to the perfect game manager would be Isaiah Thomas. Yes, NBA Hall of Fame point guard, Isaiah Thomas. He would setup his teammates the entire game, because there was a wealth of talent on those Bad Boys Detroit Pistons teams. However, when two minutes were left in the game and the Pistons needed a bucket, Isaiah came through. Sounds eerily familiar to a game on October 30th when Dak had relied on his team in the first three quarters, and became the hero in the 4th quarter and overtime to give the Cowboys another W. Is Dak a game manager? Maybe, but make sure not to view that term negatively next time it is said, because many would also call 4-time Super Bowl Champion, Terry Bradshaw, a game manager. As a matter of fact, check out this list of the Top 15 Game Managing Quarterbacks and see how many collective Super Bowl rings are worn on their fingers.
Lucky QB

What would Dak do without the best offensive line, the league-leading rusher, an All-Pro receiver and a HOF tight end? Great question, fortunately it is one that does not have to be answered, at least not now. In the same way that these questions were not answered about Russell Wilson and Ben Roethlisberger during their rookie seasons. Is Dak in a great situation? Absolutely!
Did this all fall into his lap? Absolutely not! He worked extremely hard during the summer to be the most prepared backup quarterback to Tony Romo that he could be, and when the opportunity to be the starter presented itself, Dak was ready. Not many rookie quarterbacks would have been able to do what Dak has done so far this season. Just look at Jared Goff. He could not even earn the starting job on a terrible Los Angeles Rams team, from a mediocre quarterback, until more than halfway through the season. Perhaps Dak Prescott is a fan of author Michael Korda, who said "Luck can often mean simply taking advantage of a situation at the right moment. It is possible to make your luck by always being prepared".
Rookie QB

Everyone heard the cries of Dak hitting a rookie wall and contemplated putting Romo back in the starting role after the second loss to the Giants. Really? 11-2 and people are complaining? Are they forgetting the back-to-back 300 yard passing feats against Pittsburgh and Baltimore? Are they forgetting that through 14 weeks, Dak has the 3rd best passer rating and 2nd best QBR in the league? December 11th against the Giants was a division road game, in freezing conditions, against the second-best team in the NFC, and the Cowboys lost by 3 with a chance to win at the end.
If only Dak could do something to quiet his critics. Maybe coming out the next week and getting a huge home win against the hottest team in the NFL, while also posting the second best completion percentage (with at least 30 attempts) since the 1970 merger will do the trick. Dak is far from a typical rookie quarterback. Does he still make rookie mistakes? Yes, but from watching his composure during games, he looks more like a 10-year veteran quarterback than a rookie.
So maybe Dak is a clutch, running, game-managing, lucky, rookie quarterback. Or maybe, he is his own type of quarterback, and one that future quarterbacks will be compared to.
One thing that no one can argue is that Dak Prescott is a WINNING quarterback in the National Football League.